In the Varo Bank app, tap Move Money > Mobile Check Deposit > Deposit a Check.
Before you start, it's best to confirm:
Most importantly, non-government checks need to be made out to only you. We can't accept non-government paper checks made out to you and another person. We can accept certain government checks made out to you and another person (for example, tax refunds or stimulus checks for jointly filed returns), but the check must be endorsed by all payees.
If you need the money instantly, you may consider using an instant check cashing service (most will charge a fee), then deposit the money to your Varo Bank Account.
When you're ready to deposit your Economic Impact Payment check:
1. Endorse the check (Make sure to use ink, not a pencil):
Line 1:

Sign the back. If you are depositing a government check made out to multiple payees, be sure to have all parties sign.

Line 2:

Write "For mobile deposit"

Line 3:

Write "at Varo Bank only"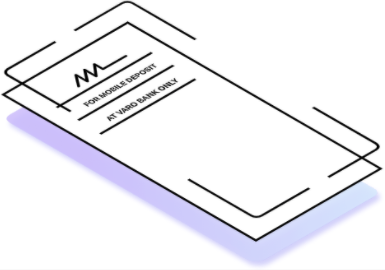 2. Follow the steps in the app to take photos of the front and back of the check.
3. When you're done, review the confirmation screen. If everything looks good, tap Submit check.
4. You will immediately receive an email with the subject line "We got your mobile deposit".
5. When we're done reviewing the check, we'll send you another email telling you if your check was approved. If it was, you'll also get a schedule of when your deposit will be available. See When will my check deposit be available in my Bank Account?
6. Keep the check for 60 days, according to the Varo Bank Account Agreement.
7. Check the status of your deposit in the app by tapping Move Money > Mobile Check Deposit > Check History. Then tap the deposit you're checking on.
We're working to make mobile check deposit available to everyone. If you have a check to deposit and don't see "Deposit a check" in the Move Money tab of your app, please contact us for assistance.